Coastal Hazard Wheel
Open Access Platform
For coastal climate action at local, regional and national level
The Coastal Hazard Wheel is a universal coastal adaptation support system that can be used for three main purposes:
Multi-hazard-assessments at local, regional and national level
Identification of hazard management options for a specific coastline
As a standardized coastal language to communicate coastal information
Coastal Hazard Wheel explained
The key to the world's coastlines
The Coastal Hazard Wheel is as a universal coastal adaptation system to address all coastal challenges simultaneously. It can be used as a complete coastal language and aims to boost adaptation action and bridge the gap between scientists, policy-makers and the general public. It is based on a new coastal classification system and functions as a key for classifying a particular coastal location, determining its hazard profile, identifying relevant management options and communicating coastal information. The Coastal Hazard Wheel App currently provides global coastal classification and adaptation information with low-moderate accuracy and will be continuously improved as various adaptation projects are implemented.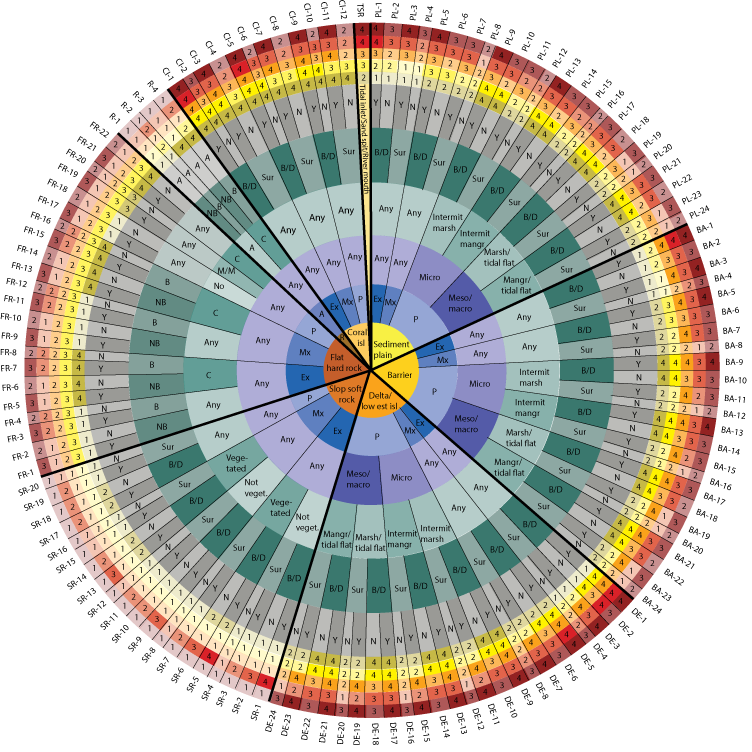 UNEP Guide
Publication package for coastal stakeholders
Global coastal classification programme
IT-resources and adaptation support
Get updated
New adaptation action
20.03.17 - Coastal Hazard Wheel platform operational

The Coastal Hazard Wheel / Open Access Platform will constitute the hub for all activities related to Coastal Hazard Wheel system. It will provide direct access to all scientific and technical background information and provide the basis for ongoing big data activities on classification of the word's coastlines. It is the aim that the platform over time will offer interactive global coastal classification and management data for coastal stakeholders worldwide.

20.03.17 - UNEP Coastal Hazard Wheel publication package released

The UNEP publication package on the Coastal Hazard Wheel provides a complete guide to the CHW system and consists of four components, namely the Executive Summary, the Quick start guide, the Main manual and the Catalogue of hazard management options. The publication package provides guidance to the full range of stakeholders involved in coastal adaptation activities and the Executive Summary is translated to all official UN languages.
Global members / Continent members
Information follows.